Government Marketing News
Federal Buyers Guide Newsletter Week of May 20, 2013
Most Top Contractors Increased Business With Federal Government in 2012
By, Eric Katz
May 8, 2013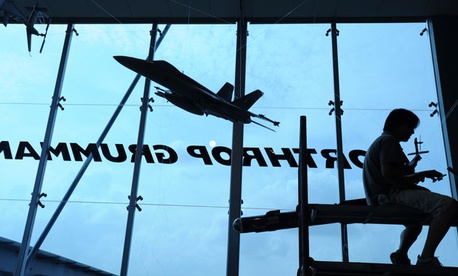 A majority of the top 200 government contractors made more money on federal awards last year than in 2011, despite major budgetary cutbacks, according to a report released Wednesday.
Overall, the federal government spent $516.3 billion on contracts in fiscal 2012, down 3.1 percent from fiscal 2011's total of $532.6 billion, the largest year-over-year decline in inflation-adjusted dollars since 1997, the analysis said. Sixty-four percent of that total went to the top 200 companies doing business with the government.
Bloomberg Government, which published the report, analyzed data from 24 agencies and departments, and in 20 categories of federal purchases. Bloomberg found that many contractors were able to maintain or increase business by focusing on sectors that were not subject to "budget pressures," such as space vehicles, drones, health information technology and cybersecurity.
Read more at: govexec.com
Image via: Wong Maye-E/AP file photo
Winslow co. benefits from expanded SBA programs
May 13, 2013
When Bob Jacobs, owner of Jacobs Glass Inc. in Winslow, set out to expand the window and glazing company he'd purchased in 2004, he faced two challenging business problems.
The first involved building a strong commercial portfolio, particularly in restoration and renovation work that required expertise beyond the residential window-and-patio-door replacements done by his affiliated company, Windows Plus. But to break into those higher-risk, higher-reward jobs he had to solve the second problem: lining up capital to cover the expenses of those bigger jobs, where payments might be delayed a month or two after expenses were incurred.
On both counts, Jacobs credits the U.S. Small Business Administration's office in Maine with providing the help his company needed to grow from four to 16 people in three years.
"We've established our credibility in the whole realm of window restoration work," Jacobs says, citing subcontracting work completed in 2011 on the Gilman Place apartment project in Waterville, the 2012 Edward T. Gignoux U.S. Courthouse project in Portland and the recent completion of Phase 1 improvements to the Old Bath Customs House.
Read more at: mainebiz.biz
Image via: Tim greenway
Local man fights for small business contracts
By MATT BROWN,
FOR THE ARGUS-COURIER
Published: May 14, 2013
Lloyd Chapman knows all too well the heartache of losing a lucrative government contract, especially for a small business.
As sales manager for a Petaluma-based computer company in the late 1980s, Chapman listened as a sobbing sales team member explained how she had spent three months working on getting a contract that was earmarked for a U.S. small business only to lose out to a Dutch company with 26,000 employees.
"I thought, 'What?'" Chapman said. "How can that be true?"
Since then, Chapman, 63, has dedicated his life to fighting what he calls corruption and fraud in the way small businesses are awarded federal contracts. After a career in the computer industry, the Texas transplant founded the American Small Business League in Petaluma in 2004.
"We are the only organization in the country, no, in the world, that's working on fixing small business contracting," Chapman said. "We think it's a problem that the government is giving small business contracts to Fortune 500 companies."
Read more at: pressdemocrat.com
Image via: Matt Brown/ For the Argus-Courier
Is a billion-dollar border security program finally due?
May. 14, 2013
By PAUL McLEARY
The Department of Homeland Security has taken a positive step in one of the longer running procurement sagas of recent years, issuing downselect notices to several contractors to compete in the next phase of a controversial border security program, sources confirm.
Although details of which companies received the notices are still sketchy, DHS confirmed to Defense News that the notices went out late last week, and two people with knowledge of the program have offered that General Dynamics, Raytheon, Lockheed Martin, and the American arm of the Israeli company Elbit have been selected to demonstrate their solutions for the government's Integrated Fixed Tower (IFT) solicitation.
A final contract award is expected in the September/October time frame of this year, a slight slip form the August target that had been floated earlier.
Read mor at: federaltimes.com
Images: federaltimes.com
The Smartest Thing Vennard Wright Ever Did
May 14, 2013 By Vennard Wright
Building a Procurement System
The smartest thing I've done in my time as CIO for Prince George's County is to create a new contracting vehicle for the county. Called Consulting and Technical Services (CATS), this entity helps us to rapidly procure IT services by issuing requirements directly to a prequalified set of vendor partners that have been awarded the master contract.
As part of our charge as senior leaders, under County Executive Rushern L. Baker III, we have been challenged with finding new and creative ways to partner with business to encourage local economic development. I saw the modification of our original procurement process for IT services as being one way that I could immediately contribute to that goal.
One of the most obvious bottlenecks I observed when joining the government was the amount of time it took to go through the procurement process when creating a new solicitation. Consequently we experienced unnecessary challenges in meeting imminent requirements, which resulted in us issuing a high number of sole source awards and riding the contracts of neighboring jurisdictions contract with vendors for our needs. The aftermath was inferior contract delivery in some cases, and higher costs for services than we would have experienced otherwise through fair and open market competition.
Read more at: govtech.com
Image via: govtech.com
Budget Roadblocks Stymie Federal IT Managers
By John K. Higgins
E-Commerce Times
05/14/13
Government information technology managers will no doubt spend every nickel of the Obama administration's 2014 proposed IT budget of US$81-billion. They will also likely be dissatisfied with the business environment that affects IT acquisition and deployment.
For starters, the proposed 2014 budget for IT, which actually shows a small gain versus anticipated 2013 spending, is not a sure thing. Congress could trim the proposal as part of the budget process -- or simply continue with government-wide cuts associated with the cost-cutting sequestration program.
Budget issues, as well as IT acquisition impediments, showed up as major concerns within the community of federal chief information officers in a recent survey sponsored by Grant Thornton and TechAmerica.
Forty-one federal CIOs, information resource management officials, and congressional oversight committee staff participated in the survey. Results were published earlier this month.
Read more at: ecommercetimes.com
Image via: ecommercetimes.com
Wal-Mart vs. the Feds: Who's the Low-Wage Job King?
Monday, 13 May 2013
By: Mark Koba
The federal government is better at creating low-paying jobs than Wal-Mart and McDonald's combined, according to a new report.
A study released earlier this month from the public policy group Demos states that through various forms of government funding in the private sector, nearly two million people are making $12 an hour or less. The number of workers at Wal-Mart and McDonald's together at $12 an hour or less is currently around 1.5 million, according to the report.
"The sheer number of those workers making so little is surprising," said Amy Traub, a senior policy analyst at Demos and co-author of the study.
"We assume people working on behalf of America would be making more, but that's not the case," Traub said. "And many of these people are making less than $12 an hour."
The report says that when tax dollars underwrite bad jobs, the economy as a whole is weakened.
"People at these levels of income have to go on food stamps or other forms of government assistance and this just compounds the problem," Traub argued. "They're not making a living wage and the economy suffers."
Read more at: cnbc.com
Image via: Getty Images
Sequestration: So Much For The Tired & The Poor
by Lynn B. Johnson on May 13, 2013
When sequestration's automatic budget cuts went into effect on March 1 of this year, many were unclear as to how these cuts would affect daily life and social programs. We were told that although the sequester would reduce the federal budget deficit by $1.2 trillion dollars over 10 years —as required by the Budget Control Act of 2011, which was enacted in part to resolve the debt-ceiling crisis— the cuts would not go into effect immediately.
Well, it's two months later and few people seem to be talking about where these cuts are headed, so Wallet Blog did some investigation.
It seems the Office of Management & Budget (OMB) was on to something last year when it reported that while "the sequestration itself was never intended to be implemented," doing so would be "deeply destructive to national security, domestic investments, and core government functions." Sequestration's "harmful" cuts are evenly divided between defense and domestic spending. The defense cuts equal $42.7 billion. Domestic spending cuts are split between Medicare ($9.9 billion) and all other domestic cuts ($32.7 billion).
Read more at: walletblog.com
Image via: walletblog.com